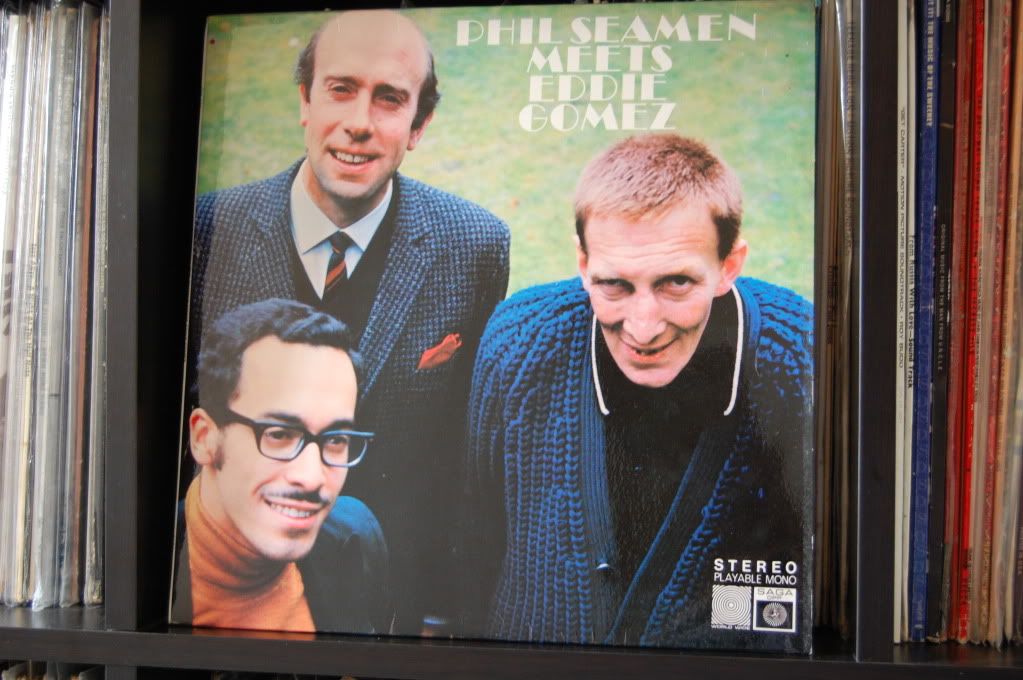 With a blog that cribs its name from a zombie movie you'd expect a few horrors!
Blimey, the design department at Saga Records obviously had something more important to do than create an interesting cover for this record.
You can imagine someone taking the trio out of the studio once they'd finished recording, walking them to a park, standing on a box and taking exactly one photo.
Poor old Eddie, who is clearly the best looking and best dressed of the bunch, is squeezed into the bottom left hand corner and is actually a little out of focus. The dapper chap in the top left is pianist Tony Lee, who looks like he's just about to go to the golf club for a couple of sherries.
And then there's Phil. How old do you think he was when this photo was taken? He was only 42 but years of drink and drug abuse are clearly shown on his face.The dark bags under his eyes, the sunken cheeks, the jagged teeth glimpsed through the wane smile. I don't like his heavy knit cardigan either, but that's another matter. He looks a like he's in a bad way. And its entirely possible that he was.
Here is Coleridge Goode, another bassist, describing Seamen during the session for Joe Harriott's Swings High album which was recorded in 1967.
"Phil's health worried me a lot that day. He was in a bad way and I thought he didn't have long to live (in fact he died in 1972). But as always he sounded good: he was incapable of playing badly..."
That seems to be the consensus about Seamen. His heroin addiction made him difficult and unreliable off stage but once he was behind the drums he was a wizard. He played with most of the great British jazz players such as Joe Harriott, Tubby Hayes, Ronnie Scott as well as Alexis Korner's Blues Incorporated and many visiting US players such as Stan Getz, Roland Kirk and Freddie Hubbard.
He was resident drummer at Ronnie Scott's in 1968 when the Bill Evans trio played there and, according to the sleeve notes, he met Eddie Gomez at a party afterwards and they ended up recording this record the very next day. I guess it was a nice little earner for all concerned.
Seamen's playing is amazing throughout. His solos are captivating, exhilarating and always interesting. He really propels the music not simply through rock steady time keeping, although that is there too, but through interpreting the music and giving it depth.
Gomez, as you would expect, is also imaginative and creative in his playing and, although the two men didn't know each other, you can hear that they were musically on the same wavelength.
Poor Tony Lee, his piano is way down in the mix and he rarely gets a chance to shine. Having said that his playing is solid throughout.
What does let the proceedings down somewhat is the unimaginative choice of tracks. But I guess you have to stick to well known standards if you have never played together before!
Seamen gets the best of it on the opening track, Nigh Train, while Gomez plays at a furious rate through Salt Peanut, despite some powerful, almost overwhelming solos from Seamen.
If ever there was a drummer less suited to the soft brush work of bossa it was Phil Seamen and on Corcovado the trio start well but the track drifts off about half way through. How did A Foggy Day become a jazz standard? Anyway they give it their best and it really swings.
On side 2 they kick off with Toots Thielman's Bluesette and Tony Lee finally gets some space for his playing to show through. Gomez is particularly good on this track. Fish This Week also swings with Seamen really having a go at his (swinging) cymbal.
Autumn Leaves is Gomez's track and his playing is amazing. With the solid drum and piano backing he is just all over the place and really taking it as far as he can go.
And the record finished with another ode to rain, Here's That Rainy Day and Seamen, again on brushes, makes it sounds as though the rain is coming into the studio. Melancholy at its best.
He might look like a mod who's seen better days but as Coleridge Goode points out, he couldn't play badly.