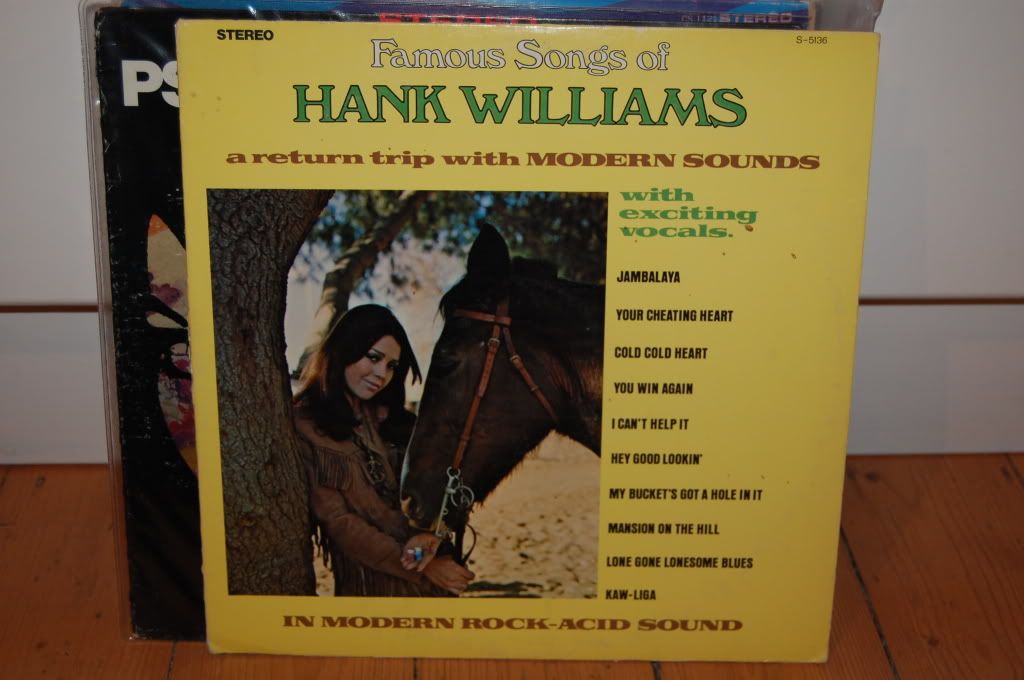 Hank Williams, one of the most influential country musicians of all time. alcoholic and drug addict, was the creator of many of the myths and attitudes that would become common place in rock and roll. Self taught, unable to read or write music, unable to conform to the 'straight' world of post-war America, he died as a result of his drink and drug intake. He left behind a legacy of some of the most popular country song ever to have been written.
However, in many ways, the rebel Hank Williams became submerged by the country legend Hank Williams. Strangely, although he epitomised many of the outsider traits that became the norm in country, Williams, like Elvis, became so ubiquitous that his image lost its edge.
Which makes this record all the stranger. Imagine a record that purported to be hip hop covers of Bob Dylan or grime covers of Tom Jones! In the late 60's when Alshire put this record out folk-rock had taken off and cosmic country was just round the corner. Gram Parsons liked Hank Williams.
The country/acid link is explicitly laid out on the reverse of the sleeve: "Presented here is a program of ten of the most famous songs made famous by the immortal Hank Williams. A group of exceptionally talented musicians were assembled along with two top vocalists. These great songs were arranged in modern Rock-Acid style, without losing the melodic line of the lyrics, and are presented here for the modern music lover. The whole idea of this album is to bring Hank's great music to the modern young generation, for truly they are great 'heart and soul' songs as evidenced by the millions upon millions of records they have sold. ENJOY THIS PROGRAM OF MODERN ACID-ROCK HANK WILLIAMS SONGS PERFORMED AND SUNG BY A FINE YOUNG GENERATION GROUP."
I love the cover as well. A pretty girl in buckskins and wearing a CND pendant, is feeding a horse coloured sugar lumps. Is it legal to give LSD to horses!!!
Anyway here's the music. The fuzzy Your Bucket's Got a Hole in It is my favourite. What do you make of it?
Click here for Songs of Hank Williams - A Return Trip with Modern Sounds
As a 'bonus' here's a more conventional Hank Williams covers record by Tex Williams and the Sundowners - I know which one I prefer!