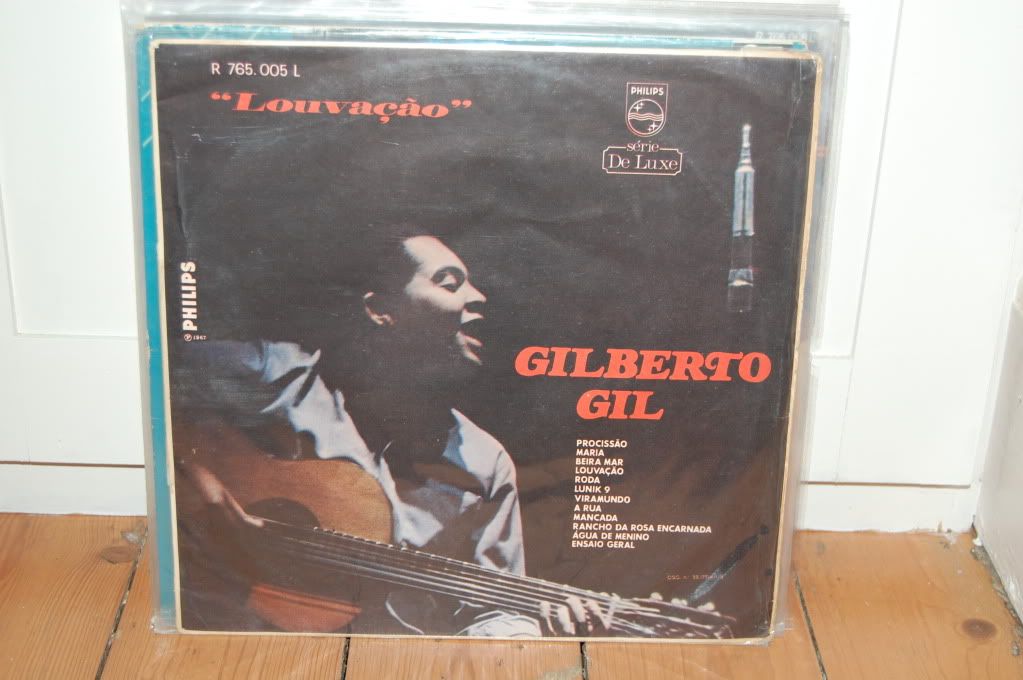 I love the internet. Without it I probably wouldn't have been able to get this record and I certainly wouldn't have been able to get it from Brazil. Of course, the vinyl has had a long and hard life and there are some crackles and pops, but that just adds to the enormous pleasure of this record.
This is Gil's first full-length album from 1967, although he had previously appeared on the Eum Vim de Bahia (The Group from Bahia) record.
It shows his roots in bossa nova and at the same time points to some of the changes that he would make to Brazilian music when he and Caetano Veloso launched the Tropicalia movement in 1968.
Accompained in true bossa fashion by simple perscussion or drums played with brushes, sometimes backed by gentle strings and on one track by a busy horn section at first glance this is music that is clearly based on the foundation of the greats of bossa rather than looking ahead to the electric, psychedelised Tropicalia.
However, although he tries a number of times to emulate his namesake Joao Gilberto's famously nasel vocal delivery, he just can't keep it up. Gil's voice is too strident, too full, too wild an instrument and rather like Sinatra's efforts on his collaboration with Jobim, there is always the sense that Gil will break free and let his voice take full light.
Which indeed it does on the barnstorming title track. Later covered and popularised by Elis Regina, who would do the same for many of Gil's songs, Louvaco sounds like a great party by the seaside.
Another clue to the musical revolution that lay ahead can be found in his choice to cover one of his friends Tom Ze's A Moreninha which has typically fast paced singing against the rythym.
Other than the amazing title track, other highlights include Roda, also covered by Elis and by Sergio Mendes on his sublime Look Around LP where, if anything it is even faster and Lunik 9. According to Caetano Veloso in his memoires Tropical Truth, Gil played this song at the benefit concert they were allowed to give before being sent into exile. He describes it as a song which "laments the immenent death of romanticism with the profanation of the moon by the space mission". It is a wonderful song where the seemingly simple and spacious arrangements that are the hallmark of bossa nova are used to marvelous effect. Listen out for the effect of the sweeping string stabs that seem to suggest movement up to the moon. I would also like to recommend the samba influenced Ensaio Geral which is crying out for you to start dancing around the room as though you are having your own carnival.
I love this record. It has an amazing depth and measure to it. I love the way that Gil take bossa forms and cliches and adopts them into his own wonderful songwriting. Like Joao Gilberto, Gil's simplicity seems easy and natural but is in fact the product of hardwork and inspired songwriting. The result is a genuine delight.