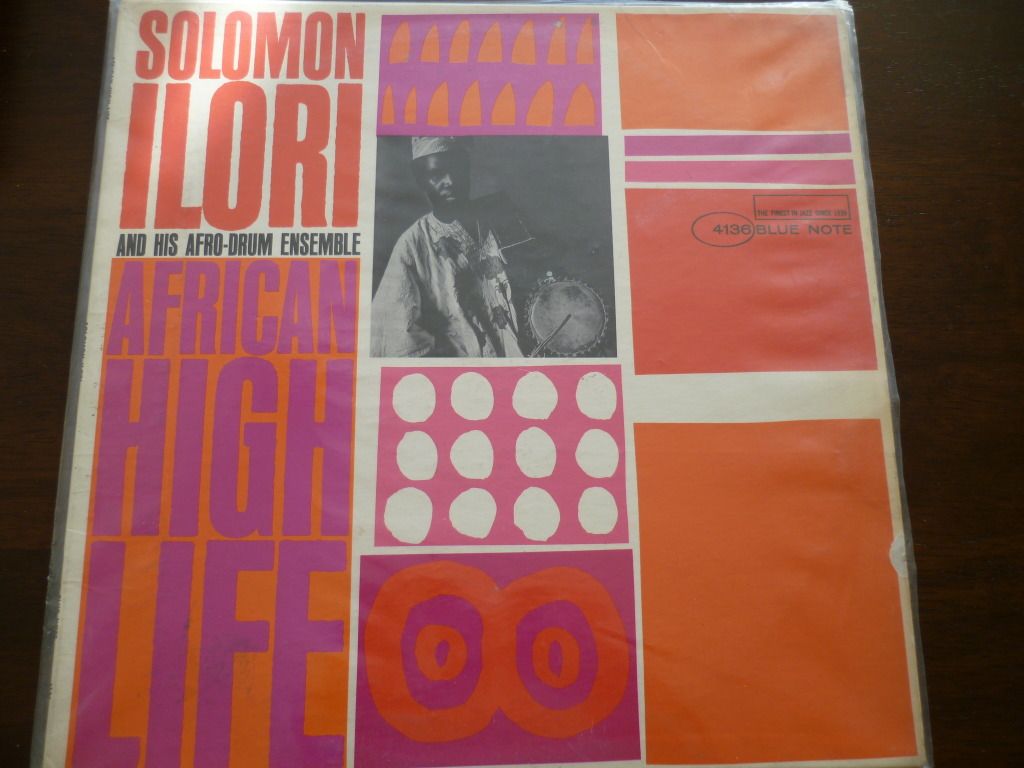 I don't really know very much about Solomon Gbadegesin Ilori and I would like to know more.
Ilori was born in Nigeria and, according to the sleeve notes of this, his only record as a leader, he had only been in the US for five years at the time of its recording. African High Life was recorded in 1963, a year after Art Blakey's African Beat on which Ilori also played.
Read about it here
.
In some ways this is a continuation of Blakey's African Beat as many of the same people played on both records. Ilori, Chief Bey, Robert Crowder, Montego Joe, Garvin Masseaux and Ahmed Abdul-Malik all appear on both sessions. They are joined by Josiah Ilori on sakara drums and cow bell (a brother perhaps?), Jay Berliner on guitar and Hosea Taylor on sax and flute.Taylor had previously played with Olatunji and also played on two unreleased at the time cuts on Freddie Hubbard's Blue Spirits. Hubbard of course played in Blakey's Jazz Messengers!
I don't know as much about Taylor as I would like to but his playing on this record is exemplary.
African High Life falls between the work of Guy Warren on one hand and Olatunji on the other. Neither as complete a fusion of American jazz and African highlife nor as obviously indebted to 'traditional' African music, Ilori manages to be both inventive and surprising. As the linear notes comment, "his use of African and European musical instruments on this album and the achievement of a perfect balance between them also point to his success in fusing together two diverse cultural elements without doing any professional injustice to either of them." The sleeve notes are penned by Oladejo Okediji, who I assume is the Nigerian writer. If so then these are the first sleeve notes on a US record by an African musician that I have read that are written by someone who may have been able to understand the music from its African source and not just as a new sound on American shores. Indeed Okediji's comments praise Ilori for attempting to correct some fundamental misconceptions about African music as being about "unmeasured and raw shouting", while "African dancers jump aimlessly into the air with a kind of martial impulse."
As the sleeve note make clear African High Life is not a percussion record of the likes of Chiano but an attempt to explore a wide range of African music and instruments. Of course, there are drums and in some cases they are prominent but Ilori also uses other 'African' instruments such as the pennywhistle
(read about South African pennywhistle kwela here)
and the guitar
(read about the guitar and the Heshoo Beshoo Group here)
to create music of depth and interest.
The opening track Tolani (African Love Song) is also the most drum focused track. It starts with some incredible drumming before the rest of the band join in. Listen out for Taylor's sax towards the end - New York meets Lagos if ever I've heard it!
Next is Ise Owula (God's Work is Indestructible). Berliner's guitar and Taylor's flute interplay are just beautiful and Ilori's sensitive drum work is perfect. His deep voice never fails to move me on this one!
The first side closes with Follow Me to Africa,which again, is a melodic and beautiful song. It opens with some fine pennywhistle playing from, I think, Ilori. Abdul Malik's bass also stands out for me. Happy stuff.
Side two kicks off with Yaba E (Farewell) which is pure highlife. It starts with a refrain from an instrument that sounds like a xylophone before breaking into an infectious dance groove.
The next track, Jojolo (Look at this Beautiful Girl), is another highlife track. With lovely call and response singing, Taylor's sax is once more to the front. The percussion is particularly good.
The record finishes with Aiye Le (The Troubled World) which, at the beginning, is almost a duet between Ilori's voice and Berliner's guitar - although, inevitably, there is some inventive percussion work supporting them. Then it sounds as though the rest of the band join in and everyone sings this beautiful song together.
The English 'translations' reveal that Ilori was a spiritually minded person for whom God and life were linked and worthy of respect.
In many ways this is a surprising record to come out on Blue Note, although it seems to have been an extension of Blakey's interest in African music.
I would very much like to know more about this fascinating musician. Did he stay in the US or return to Nigeria? Did he make any more records. There is a fairly recent release of tracks from the African Highlife sessions which I haven't heard. Is there any more? Any information will be very gratefully received.