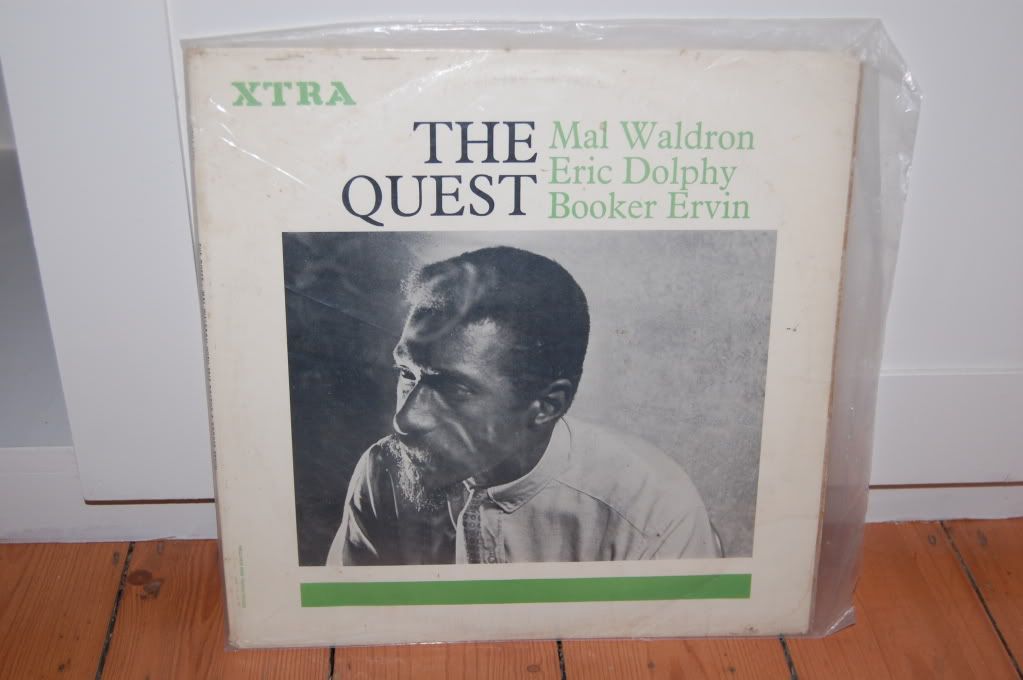 As my journey to the outer reaches of my record collection continues I pulled this out recently. I haven't listened to it much over the years but have now become strangely obsessed by it over the last few weeks.
It doesn't quite fit into any neat categories and is all the better for that. Its not really hard bop - its far too experimental, Its not free - although its recorded in 1961 and includes Eric Dolphy, the presence of Booker Ervin ensures that hard bop is very much a presence. Its not third stream - although the inclusion of the cello might make you think there were some classical pretensions.
For once the title does seem to convey what is happening on the record. Waldron seems to be on a quest - but a quest for what?
The Quest was recorded for Prestige in 1961. The Prestige label had a reputation as something of a junkie's label. Its owner Bob Weinstock often paid musicians in cash which made it very attractive to those who needed quick money. What's more, Weinstock didn't like anyone rehearsing in the studio and was against second takes, unless absolutely necessary. If the band needed to record the song again he'd get the engineer, Rudy Van Gelder, to wipe the tape so they could record over it. This kind of hit and run approach was, he said, intended to capture the spontaneity of live performances. Perhaps, but it also meant that many musicians felt that they didn't need to play their best. It also meant that musicians were loath to try new things, or sometimes even new compositions, unless they could get it right first time.
At the time of this recording Waldron was in the grip of heroin addiction. It wasn't until an overdose in 1963 that he was able to quit. Apparently, a result of the overdose was that he temporarily forgot how to play the piano. It would be another three years before his memory was restored,
However this isn't a drug record. Dolphy was famously straight and I don't think that Ervin was part of that scene either. Its a very experimental record, regardless of the Prestige habit of capturing first takes, Waldron clearly wanted to stretch out and explore new areas. There are no standards and all the tracks are Waldron compositions. However, one has to wonder if, given more time in the studio, more rehearsals or more encouragement to stretch out, Waldon might have got to closer to the goal of his quest.
Waldron, Dolphy and Ervin all played with Mingus although never at the same time.
This record has been released under Eric Dolphy's name and given the prominence he has on it I can see why you might think that he was the leader. Waldron's piano seems to be very low in the mix and, even on his few solos, he is not very demonstrative in his playing. His music, and his playing, seems to conjure up images and pictures of real places and things rather than impressions of feelings and emotions.
Waldron is joined by Ron Carter on cello, Joe Benjamin on bass and Charles Persip on drums. Benjamin and Persip are an adequate rhythm section and they anchor each track perfectly well, if at times somewhat unimaginatively. Ron Carter's cello on the other hand is a very adventurous addition. Not only is it a very unusual instrument to find on a jazz record, Carter's playing is not at all conventional and in some cases is a front line instrument in its own right.
The record starts with Status Seeking which, as Waldron in the linear notes point out reflects "the hustle and bust of the way we live. Everybody's trying to make it, and I try to show here the two main ways in which that struggle is carried on - some guys are pushing just to get there first and to make it in a materialistic way. Other guys, John Coltrane for instance, are pushing to realize their fullest potential as musicians, and that's the kind of status I identify with." Its a fast busy track which a very cinematic quality. Waldron would go on to write film scores and music for dance.
The pace is slowed for the next track, Duquility. Waldron's piano and Carter's cello are the main instruments here. Waldron is a very interesting pianist, soft and gentle and engaging but at the same time angular and sharp. Ron Carter began his musical education playing cello before he started on the double bass. I must admit that on this particular number I find his playing rather grating.
For Thirteen, according to the linear note, Waldron was influenced by tone-row conceptions of contemporary classical composers. Carter's cello finds itself soloing in the front row as do Ervin, Dolphy and Waldron himself. Despite the classical influences Thirteen comes over as hard bop rather than third way.
Side one closes with We Diddit. Persip gets a chance to let rip on a fierce drum solo while Dolphy provides some typically interesting alto work and Ervin underpins with his tenor. Its another fast and busy track and I keep feeling that its about to bust out of its bop roots and head off into uncharted territory but however inventive it is, it just can't quite break free.
Side 2 opens with, in my view, the outstanding track from this record. Warm Canto features Dolphy on achingly beautiful clarinet, with Waldron providing calm, blocking playing behind him. Benjamin provides a lovely plucked bass solo.As Waldron says in the linear notes "It's an odd mode (the PhrygianWaldron's discordant, restrained ending.
Warp and Woof is underpinned by solid playing from the rhythm section allowing everyone else to solo over the top. Ervin is good if not very adventurous, Carter tries to push his cello to swing, which it struggles to do, Dolphy is. as always, very interesting, and Waldron remains calm and measured.
Finally the record concludes with Fire Waltz and some of Waldron's best playing. I think his solo on this track is wonderfully flowing and imaginative. I'm less convinced by Benjamin's plucked bass solo unfortunately. However, its a marvelous piece of music.
And just for fun here is Dolphy playing it live. He takes it, typically, much further into the free territory that is only hinted at on the record. Underpinned by the same 3/4 waltz time, Dolphy uses it as a basis to be very exploratory and adventurous. Perhaps this is the direction that Waldon might have taken the music if he had recorded in different conditions?